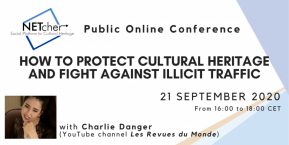 Participate ! Online Public Conference on Illicit Trafficking of Cultural Heritage - 21st of September - 18:00-19:00 CET // Now Online & via YouTube

In the framework of the European Heritage Days 2020, the NETCHER project is organizing an online public conference on the issues of illicit trafficking and theft of cultural objects.

Open to all European citizens, the objective of this conference is to make everyone aware of the dangers that illicit trafficking and looting of cultural property represent for our society and our heritage. With archaeologists, law enforcement agents, researchers and day to day fighters, come and join us to discuss and learn on how you can act and be engaged at your level in this overall fight against the looting and trafficking of cultural goods.
The the whole experience will be enhanced with the participation of Charlie Danger, a famous French YouTuber who will animate the discussion.
In addition, a Video will be published on the 20th Sept.
Link to the event via YouTube: here
Link to the Video from 20th Sept. : here

Read more: here