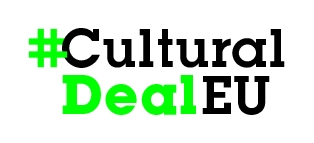 Save the date | 13 January is the #CulturalDealEU action day
13.01.2021
13 January is a #CulturalDealEU campaign day! Join our social media campaign to present and support the Cultural Deal for Europe! Throughout the day, Culture Action Europe will be using its Social Media channels to spread the demands of the deal widely, join us in this action!
This action Day is part of the #CulturalDealEU Campaign
Culture Action Europe, European Cultural Foundation, and Europa Nostra (representing the European Cultural Alliance) jointly proposed a Cultural Deal for Europe framework. This overarching strategy aims at placing culture at the center of the European project and mainstreaming it across all policy fields: from the green transition to Europe's geopolitical ambition and from the digital shift to a value-driven Union. It focuses on both facilitating the contribution of culture to Europe's sustainable development and providing the sector with the credibility and resources for realising its full potential. By bundling together both short and long term objectives, Cultural Deal for Europe is envisioned as a roadmap towards a more balanced, more comprehensive, and more inclusive European development model.
A Cultural Deal for Europe | Un Pacte Culturel pour l'Europe I Joint statement signed by 110 Networks including Michael Culture
Cultural Deal for Europe is jointly developed by Culture Action Europe (CAE), the European Cultural Foundation (ECF), and Europa Nostra, also in its capacity as coordinator of the European Heritage Alliance.
More information & guidelines for the Action Day: here

Michael Culture is a proud member of Culture Action Europe (Board member) and of European Heritage Alliance